Events
Event Security Services
We proudly offer our exceptional security services to ensure the safety and security of visitors at a number of different events. For this service in particular, our security personnel have been highly trained in security with a customer focus, providing not only an effective security solution, but a polite and friendly face to ensure all visitors are made to feel comfortable and safe. We understand that every event is unique which is why we provide a bespoke service to every client to ensure we can provide a top-quality service which helps to keep running of the event as smooth as possible. We are able to offer the likes of overnight security, CCTV operatives, close protection, bar security, security handers, security for sports events plus many more security solution options. No event is too big or too small for our incredible team to protect.
Our team of security staff are appropriately qualified in their field, holding exceptional expertise in safety procedures. As a whole, we are a motivated, dedicated and customerfocused business, which is proven through these jobs specifically where we are continuously putting customers first. We are able to offer a range of trained security staff depending on the type of solution you need: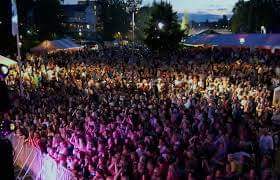 Stewards
All members of our steward event teams are dedicated in ensuring the smooth running and safety of any event we are managing. We offer identifiable, go-to individuals who are proactive, efficient and approachable people ready to assist the public in whatever they may need.
Door Supervisors
Offering a smart and respectable appearance, our door supervisors not only hold vital skills in protection but also have brilliant customer service qualities, enabling them to carry out their job in a friendly manner. Our door supervisors are generally the first and last point of contact for your customers, which is why each of our team members understand the importance of sharing a positive lasting impression. We can offer door supervisors for a range of events such as:
Public Houses
– Nightclubs
– Student Unions
– Live Music Venues

Dog Handlers
Our security dogs and fully-accredited dog handlers are trained to exceptional standards and follow strict legal guidelines. Our team is regularly trained to ensure they are continuing to carry out outstanding solutions, working together to deliver the highest standard possible. Our dogs are a great visual deterrent and lead our handlers to points of danger. They are trained to sense threats by smell, sight and sound and act accordingly in a controlled aggression to intimidate attackers.
Close Protection
This is an extremely specialized role that we are proud to be able to carry out. It required the experience of expert individuals which we are able to provide; offering totally unique security protection for each case.